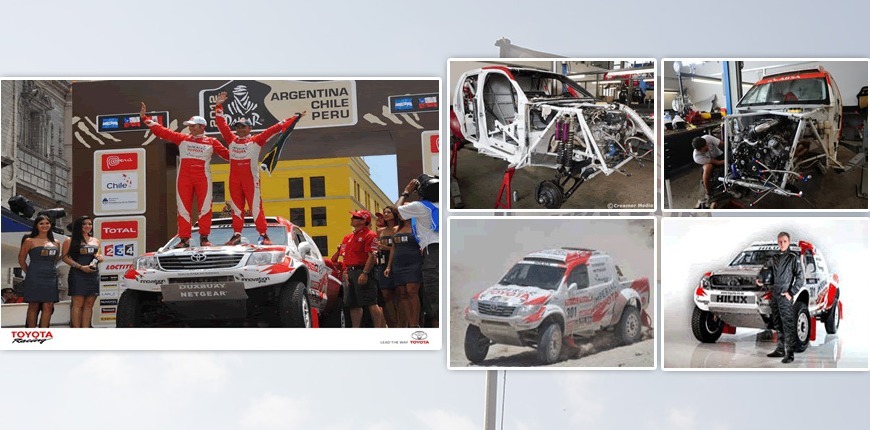 Dakar Rally 2016
Being involved with the Dakar rally over the past few years has given Supreme Spring the confidence that our suspension products developed for this vehicle tested in the extremes, and standing up and exceeding the expectations under the conditions of use.
Toyota South Africa made history this year by achieving 3rd place at the 2012 Dakar rally, it's regarded as the toughest rally in the world that started off in the Argentine coastal resort city of Mar del Plata on January 1st and finished in Lima, capital city of Peru, on January 15th after passing through Chile. It was contested by 465 cars, trucks, motorcycles and quads which competed over 14 special stages totalling 4 200km and a total distance close to 9 000 km. It has carried top positions in 2013 - 2nd place, 2014 - 4th place (Stage 1 Winner), 2015 - 2nd place & 2016 - 3rd place.
Through the Toyota "buy local" marketing campaign, Supreme Spring, amongst others, had the opportunity to design and build key components for the suspension and drive train, specifically made for the Imperia Toyota Team vehicle. The Supreme Team consisted of Colin Ellison, Technical Director at Supreme Spring, (also and avid racing driver himself) and his Engineering team. We at SS where extremely excited to be part of and to have been able to contribute to the proudly South African composition of the Dakar Team.
The Product Development team at Supreme Spring worked rigorously to meet the tight deadlines set and the unique and extremely difficult performance requirements that where to be expected of the components in the race. Supreme Spring would like thank the staff on the Torsion Bar, Cold Coil and CNC Machining lines as well as our heat treatment expert and the ATE team for their contribution. Today, Supreme Spring is proud to have been considered Specialist Official Supplier and Technical Partner and greatly acknowledges the opportunity Toyota Motorsport afforded us to be part of their Proudly South Team in the quest for victory with a podium finish.
Gino Singh